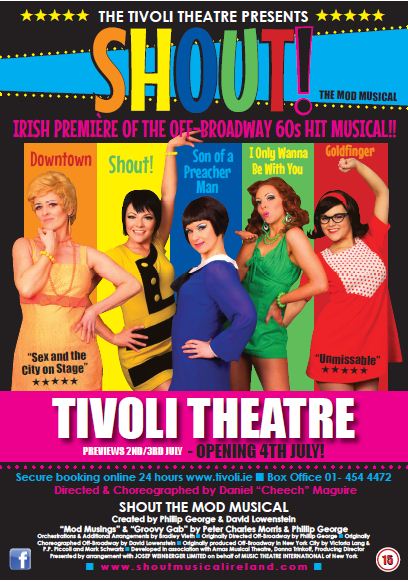 Shout The Mod Musical ran in the Tivoli theatre from July 4th to August 10th, 2013.  Produced by Tony Byrne, Managed by Wayne Whelan, Production Manager Gerry McCann, Lighting Design Darren Kelleher.  Performed by Laura Kelly, Sharon Clancy, Stella Bass, Laura Bella Griffen & Kelly Marie Ní Cheallaigh.  Original Direction by Daniel Maguire, with wig design by Ali Murphy & set design by Vinnie Bell.
It was a very successful run in which we supplied all the audio needs for the show.  The equipment list was as follows.
6 x Nexo PS15 Speakers FOH
2 x EV Monitors
8 x Sennheiser Radio Microphones
7 x DPA 4066 Head set Mics
1 x Yamaha LS9/16 Console
1 x MacBook Pro with Qlab ver 3.0
1 x Sony Notebook with Show Cue System running in Midi Syc as Back up
The Show ran all music of our Mac using Qlab which also sent midi time code to the lighting console.
Featuring songs like this one –